David John Davies completed his initial studies at Dartington College of Arts in South Devon. His prime instrumental studies were French Horn and Organ. He also studied Piano, Viola and Percussion. After starting his teaching career in Hackney, East London, he returned to his home county of (the old) Monmouthshire as a Brass teacher.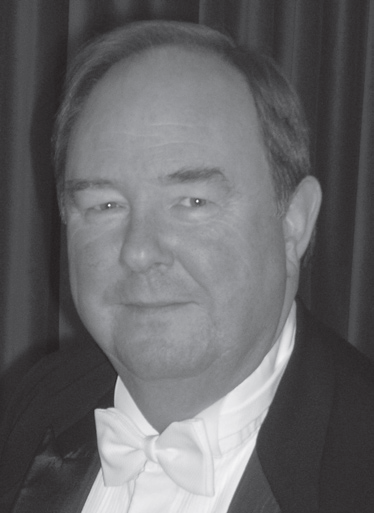 He survived the changes in Local Government from Monmouthshire to Gwent to the current four authorities, with the Gwent Music Support Service. In his capacity as a tutor with GMSS, he has directed many ensembles, ranging from String groups and Wind Bands, to Brass Bands and Orchestras. He has, on two occasions, directed the County Youth Orchestra on visits to Germany. In the summer of 2004, he travelled to New Zealand and Australia with the Gwent County Youth Brass Band. In July 2005 he directed the South Monmouthshire Senior Wind Band at the National Festival of Music for Youth in Symphony Hall, Birmingham – one of only thirteen Wind Bands to be invited from the whole of the country. In August 2005, David travelled to Tuscany with the County Youth Orchestra and Choir. David was Head of the Music Centres in Chepstow and Monmouth. At the end of August 2007, David took (early) retirement from GMSS and is now busy as a freelance Tutor, Conductor and Adjudicator.
At the beginning of 2006, David was invited to direct the Gwent County Youth Choir. Under his directorship, they performed for four consecutive years in the Town Hall, Birmingham in July as part of the NFMY, and thirteen years ago, they were granted an 'Outstanding' Award for their performance – the first in their history. During August 2008, the Youth Choir joined the Gwent Youth Orchestra and Brass Band for a visit to Poland. David performed his final concert with the Youth Choir in August 2011 in a ninth century Monastery near Leipzig in Germany.
Outside his work with GMSS, David has directed several Choral Societies, and has worked with Operatic Societies in Newport and Chepstow. He still performs as a horn player and is a member of Brecon Town Concert Band, and has been a Guest Player with the Band of the West Midlands Fire Service! David has been the Conductor of the Monmouth Concert Orchestra since 2008.
David has been a member of the BBC National Chorus of Wales for thirty-five years. With them, he has performed in Ghent, Amsterdam, Paris, Toulouse, Leipzig and Savonlinna (Finland), as well as the Welsh National Eisteddfod and the Llangollen International Eisteddfod. He has performed in the BBC Promenade Concerts at the Royal Albert Hall, and in venues across the country including Chester, Cheltenham, Exeter, Birmingham, Swansea and Cardiff.